Commission of the European Union (EU) has lifted a ban or warning of cucumber from the Spanish agriculture.Spanish Cucumber previously thought to be the cause of the outbreak of E.coli bacteria.
"The European Commission has lifted the health warning against cucumber Spain from Almeria who had applied last Thursday," said Minister of Health of Spain,Leire Pajin, as quoted by AFP on Thursday (02/06/2011).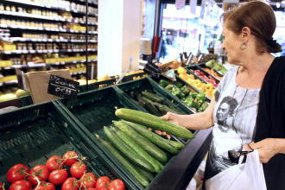 Leire said,he received information from the EU Health Commissioner,John Dalli,via telephone.The decision was an important step to restore immediately the Spanish agriculture.
Health authorities Hamburg, Germany, also admitted that the testing of two cucumber which is believed to be carriers of the bacteria are not proven. Cucumber Spayol previously thought to be the cause of death of 16 citizens of German and a Swedish citizen.
"The Spanish government made ​​every effort to some parties to eliminate suspicions of vegetables from Spayol. At the same time, Spain also conduct their own research in the laboratory Lugo (in Galicia), and the results prove that adan no association between consumption of cucumber from Almeria with the outbreak of E. coli, "he added.
However, Hamburg city authorities will continue to investigate the origin of the outbreak.
Death cucumber crisis began more than two weeks ago when the first cases were reported in northern Germany. Until now the number of confirmed and suspected cases had reached 1,200.
Last week, German authorities warned people not to eat raw vegetables. The warning was issued after the discovery of bacteria on organic cucumber imported from Spain.