VIDEO-Cop Shot During Child HOT Bust At 'Harry Potter' Premiere

Two police officers are recovering from injuries after they tried to arrest a man suspected of having child pornography following a showing of Harry Potter and the Deathly Hallows Part 2.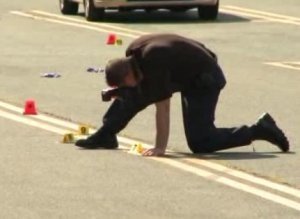 The Hartford Courant reports that cops received a tip Erik Gothberg, wanted for third-degree possession of child pornography,was at a Plainville movie theater. When they attempted to arrest him after the screening, state police said, Gothberg made sudden movements. That's when two cops opened fire.
One resident told Fox CT that the incident was unnerving.
"This is such a public area" she said. "There's children here … it's just scary."
The Daily Mail reports that both officers and Gothberg were treated for injuries which were not life-threatening. Gothberg is being held on $500,000 bail.